How to decorate your Christmas tree like a pro
December 10, 2020 | Laura Whittle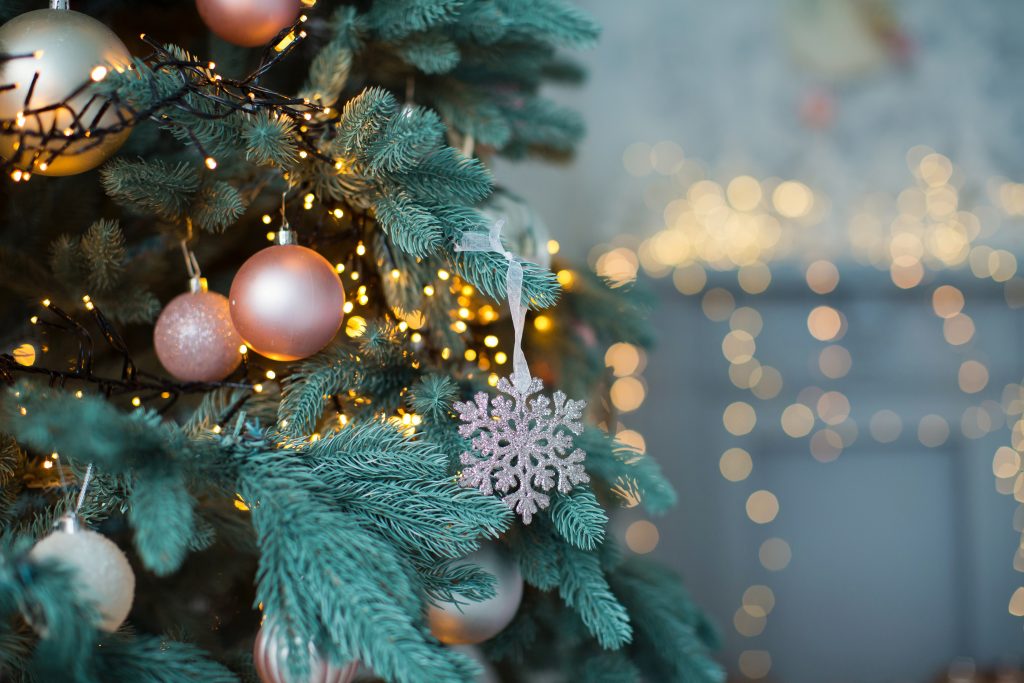 Decorating the Christmas tree is arguably one of the highlights of the festive season. And after the year we've had, lots of us are dragging our deccies out of the loft and getting into the festive spirit a lot earlier than usual.
However, while decorating the tree can be a fun-filled time for all the family, it can sometimes be a bit of a hassle. If you've ever spent hours untangling Christmas lights or lovingly adorning your tree with mis-matched baubles, only to finish and find that it's all looks lopsided or that it's covered in mysterious bare patches, then you'll know exactly what we mean.
So, to help you deliver Instagram-worthy festive firs, we've put together some top tips on how to decorate your Christmas tree with added sparkle this Christmas.
Choose your tree wisely
If you're going for an artificial tree, make sure you invest in a good quality tree and try to opt for a traditional one rather than a trend-led one, so that it does not look dated after a few years.
If you decide to purchase a real Christmas tree, you will find many different variants at tree farms, markets, or home & DIY shops, from the classic Norway Spruce to the more bushy Lodgepole pine.
Whichever fir type you go for, the most important thing to look out for when choosing the tree is a deep green, healthy looking spruce – with little to no brown needles. Try giving the tree a little test by running your hands through a few of the branches – if the needles don't drop you've got a tip-top tree.
If looked after properly, a real tree should last you between 4 to 6 weeks.
Fluff and shape branches
When you unbox your artificial tree, you will need to make sure any branches that have been compressed are fully opened out. Fluffing the branches will help to make your tree look fuller and more natural.
Watch this video on how to properly fluff your artificial Christmas tree
Pick a theme
There is nothing wrong with having a Christmas tree without a theme, however, some people may prefer to stick to theme/colour palette that matches their home décor.
If you want to choose a theme for your tree, the easiest approach is to simply choose a colour scheme. Think beyond the traditional red and green of Christmas, and why not deck the halls with other key colour trends for Christmas 2020 such as blush pinks and navy blues?
You could then take it one step further by choosing ornaments that reflect a hobby or interest of yours.
Get inspired by these 21 Christmas tree theme ideas
Start with the lights first
One of the most important things to do when decorating your Christmas tree is to make sure you start with the lights first.
A good tip is to safely plug your lights in and switch them on to check they all work before you start. Switching them on as you decorate your tree will also help you to see clearly how evenly the bulbs are being distributed.
Start from the base of the tree and work your way up, weaving between branches and near to the trunk. Once you reach the top, weave your way back down with the lights further out on the branches.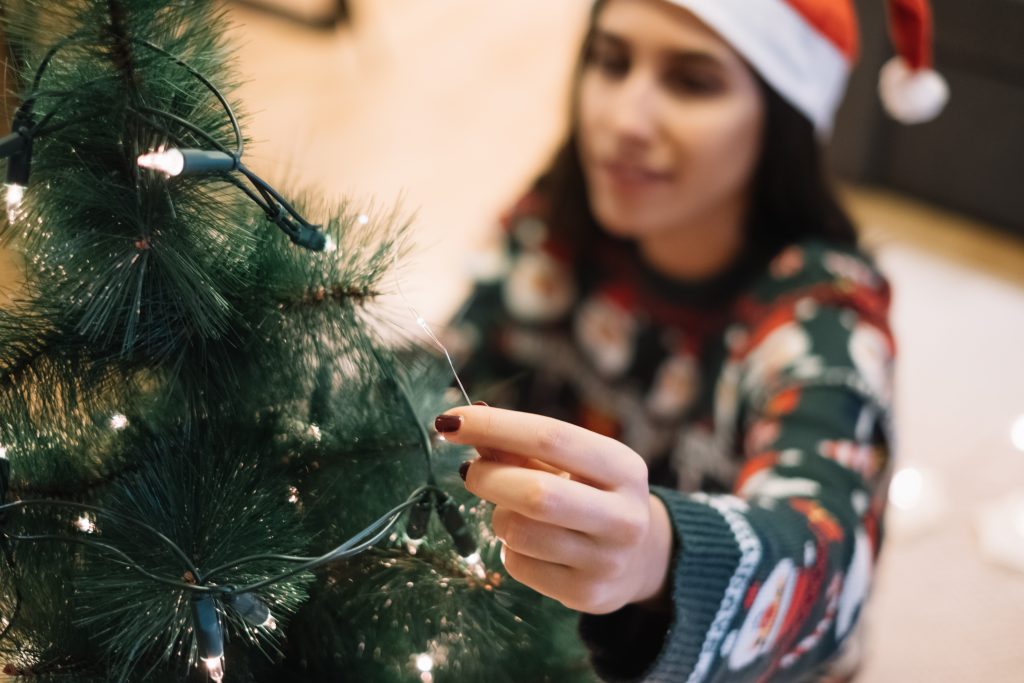 Add a sprinkle of tinsel
To make your tree appear fuller, you could add tinsel, feather boas or mesh to the branches.
The best way to do this is to simply drape one strand across each level of branches, working your way up from the trunk evenly and in stages.
Cluster baubles for flair
When adding baubles to your tree, make sure to place any larger ones closer to the centre of the tree to give it more depth and smaller baubles towards the end of the branches.
Cluster three baubles together to add flair – these could be different sizes, the same style or contrasting colours.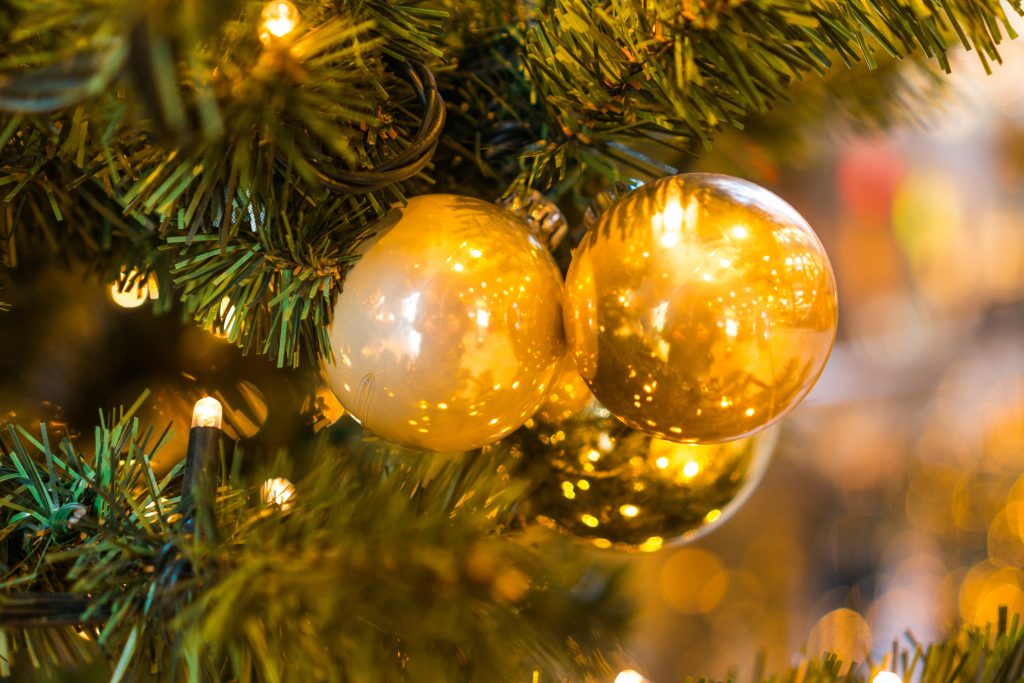 Add statement pieces
Statement pieces can really add something special to your Christmas tree. Large clip-on flowers, fern leaves or Christmas branches when used sparingly can add extra oomph to your tree and make it look professional.
Take a look at Taskers for more statement pieces
Choose the right tree topper
When choosing your tree topper, opt for something that best fits your theme and the proportion of the tree. You will need to take into consideration the height of your ceiling and the amount of space you will have once your tree is fully assembled.
Balance the décor
The best way to make sure everything is well-balanced, is to start by adding your embellishments from the top of the tree down. Don't forget to pay attention to all angles and sides, especially if you are placing your tree near a window.
Finish off with a tree skirt
Tree skirts are a great final touch and are mainly used to hide the 'legs' on an artificial tree, or to protect your floor from any falling pine needles, if you have a real tree.
A good tree skirt will balance the overall design of the tree and make it look professional. You can choose from all different types including wicker ones or soft material ones.
Browse a variety of tree skirts here
---
If you liked our decorating tips, please make sure to share your Christmas tree photos with us on Instagram, Twitter or Facebook!