Cheshire family finds room to bloom at Sycamore Gardens
July 15, 2021 | Dan Todd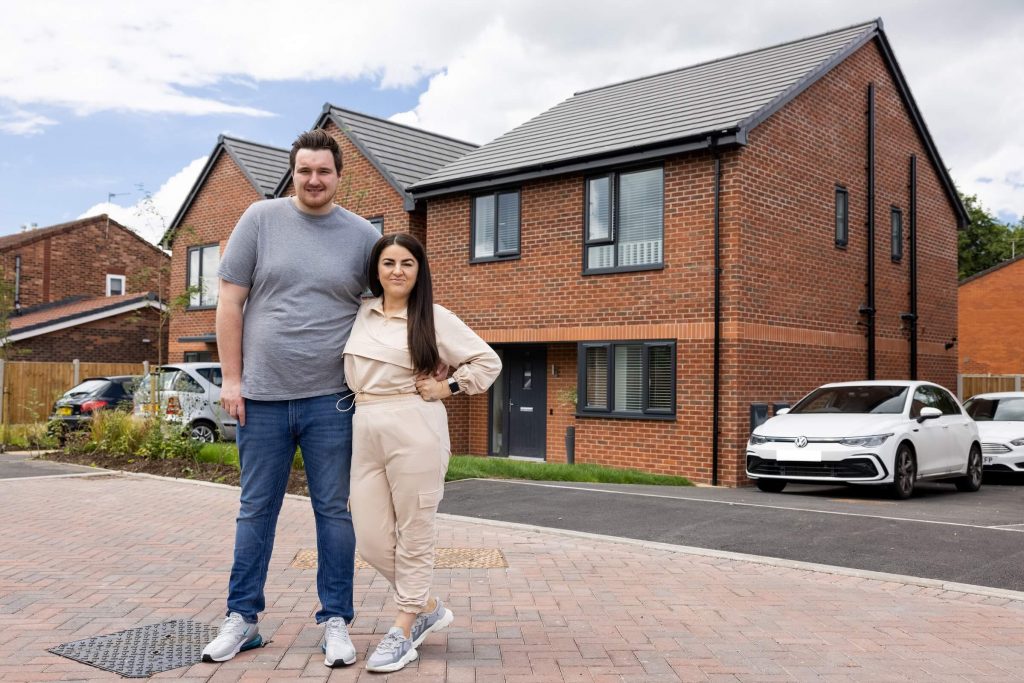 A growing family in Cheshire has been able to upsize to a bigger home with the help of shared ownership.
Jamie-Lee, 31, and Joe, 30, were renting a two-bedroom house along with Jamie-Lee's 15-year-old daughter, Demi. But with a new baby on the way, they knew they needed to find a home with more space to meet their needs.
Joe, an area manager, says: "It was just us and Demi in a two-up two-down terraced house, and then we fell pregnant. With the house we were in at the time, we had to move and there was a bit of a rush to find somewhere."
The pair temporarily moved to a larger rented house while they continued to save for a mortgage, and that's where they welcomed their beautiful baby daughter, Lyla, who is now 15 months old.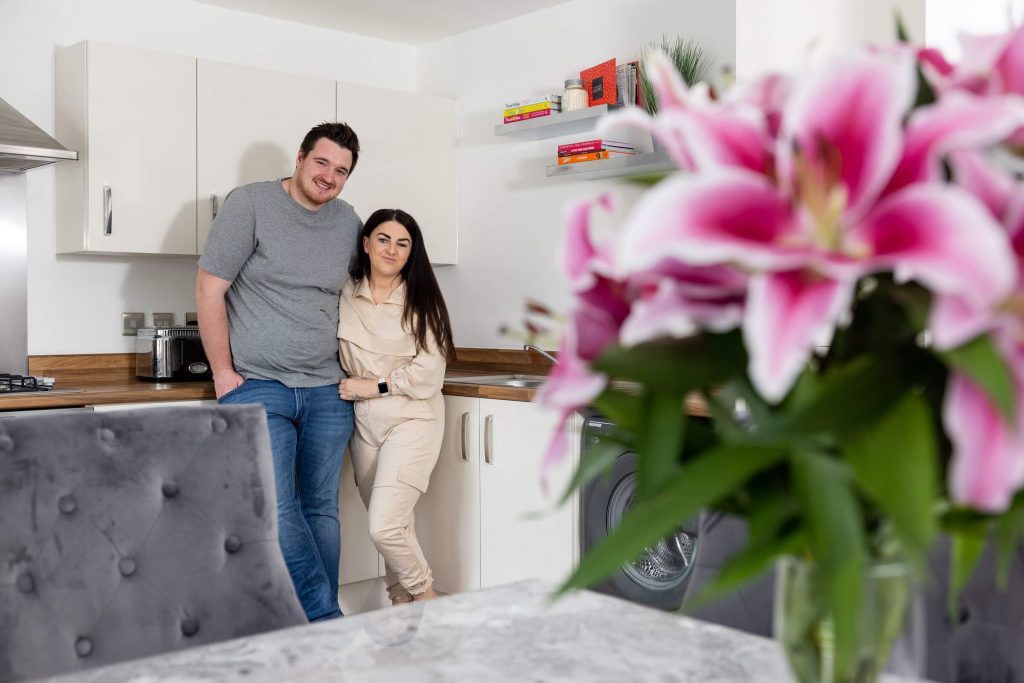 Soon after, Jamie-Lee discovered Onward Living's Sycamore Gardens development online, which offered homes for shared ownership in nearby Great Sutton, and realised that they could buy a home fit for a family sooner than they first thought.
"The idea was that we would continue to save up for our own house, which we initially thought would take a couple of years," says Joe. "But when this came up with shared ownership it allowed us to move a lot quicker and get a better standard of house than we would have been able to afford even if we had saved for a few years."
The pair moved quickly to secure the four-bedroom Aspen house type at Sycamore Gardens, putting down a £6,625 deposit for a 50% share in the £265,000 home.
Jamie-Lee, a retail team manager, says: "Everything just kind of fell into place. We saw this and we were in a position to do it straight away, which was great. Once we enquired, the ball started rolling really quickly after that."
After reserving off-plan in November 2020, Jamie-Lee and Joe got the keys to their new home in March this year and wasted little time in putting their own stamp on it – something that they couldn't do while they were renting.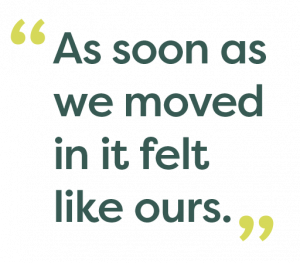 Joe says: "With a rented home, no matter how long you live there it's not yours. Whereas here, as soon as we moved in it felt like ours.
"Jamie-Lee has always loved the idea of buying an old house and doing it up, but I don't have the patience or the skills for that. So we wanted something that was ready to move into and liveable from the off. We treated this more like a blank canvas."
It wasn't just the spacious home that won Jamie-Lee and Joe over. They loved the location of Sycamore Gardens, too.
Joe says: "It's a really nice area. As soon as we saw it, we knew we definitely wanted to live somewhere like this. It's nice and tucked away."
"It's also not too far from Demi's school," adds Jamie-Lee. "And it was ten minutes away from Joe's work, so it was really convenient."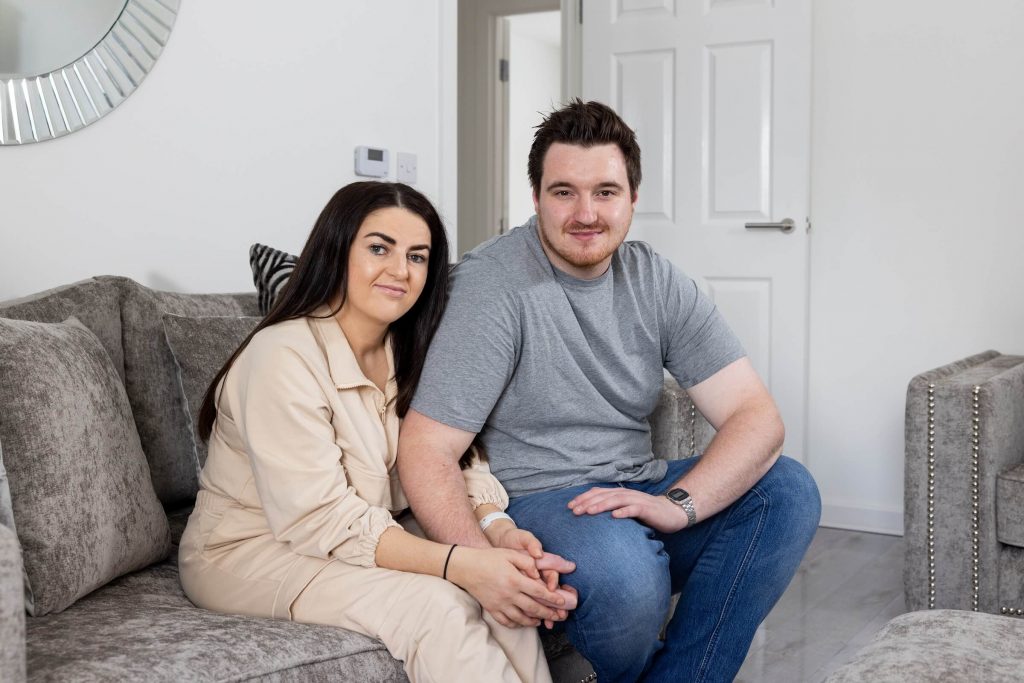 Jamie-Lee and Joe are delighted with their new home at Sycamore Gardens and would recommend shared ownership to other families and first-time buyers who are also looking to make the move sooner.
"I've recommended it to my friends who have been trying to save for quite a long time now," says Joe. "We couldn't have afforded a house like this if we bought it for the full amount. Just from a deposit point of view, it would have taken us so long to save that money. It's as simple as that."
 If Jamie-Lee and Joe's story has inspired you to find out more about shared ownership, you can contact the Onward Living sales team on 0300 555 0130 or email sales@onward.co.uk
Looking for a family home of your own? Browse our developments available now and coming soon!
Find a home