Katie and Martin find room to grow with the help of shared ownership
August 20, 2019 | Dan Todd
With a growing family, Katie and Martin needed to move out of their rented two-bedroom house in Stalybridge and find somewhere with a bit more room. But when they started looking around they were shocked at how much renting a larger place would cost.
Fortunately, with the help of shared ownership, they've been able to buy their dream family home instead – something they never thought would be possible.
Katie, 24, a nurse, says: "We'd been living in a rented house for about three years, paying quite a lot of money each month. Then we had our son, Freddie, and with two girls already – Isla and Daisy (who stays most weekends) – we knew we'd have to move because it was only a two-bedroom house. But when we looked around it was £600 to £700 a month for somewhere bigger.
"We always said we wanted to buy and we always tried to put some money away each month. But we knew, realistically, that we'd never be able to buy if we moved to a rented house at £700 a month because that spare money would soon be gone."
Luckily, Katie stumbled upon Onward Living's Cotton Meadows development in Stalybridge, offering ten new homes for affordable shared ownership.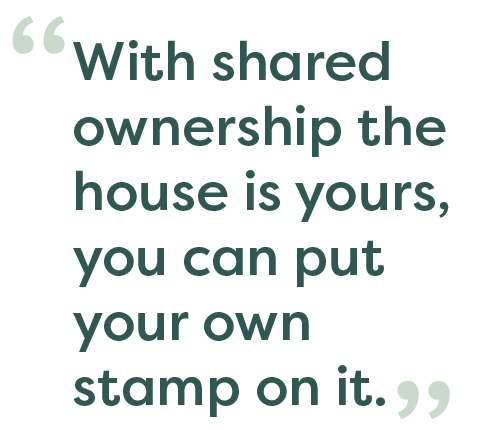 Katie says: "We went on Rightmove and these houses popped up for shared ownership. We looked into it and rang Onward Living to find out more because it sounded ideal for what we wanted. As soon as we saw the pictures we thought: 'we really want one'."
Despite not knowing much about the government-backed shared ownership scheme – which allows you to buy a share in a new home, ranging from 25% to 75%, depending on what you can afford, while paying a reduced rent on the share that you don't own – Katie and Martin had someone they could call upon to find out more.
"My auntie had actually bought her house through shared ownership," says Katie. "I spoke to her about it and she said it was the best thing she ever did as it helped her get on the property ladder."
With a little help from Katie's parents they were able to put down a £4,000 deposit for a 50% share on a three-bedroom house.
"As soon as we saw the opportunity we just had to grab it," continues Katie. "We spoke to my mum and dad about it and they said: 'apply for it and we'll help you with the deposit'. We had so much saved ourselves but they helped us with the rest of it because they know how hard it is to save, especially with childcare costs.
"We applied and never thought in a month of Sundays that we'd get accepted at first. Then, once we were accepted, everything has just flown by since then. The whole thing moved really quickly."
Katie and Martin only moved in at Cotton Meadows in August but are already settling into life in their new home.
Katie says: "It's local to everything. Work's two minutes away, my gran lives round the corner, and my mum and dad are down the road."
"Everything's brand new as well," adds 32-year-old council worker Martin. "You don't have to do anything to the house. When we were renting we'd do a lot of work to the house, fixing it up and decorating it, but all you're doing is putting money into someone else's house."
"Having a garden for the kids makes a big difference as well," adds Katie. "We used to just have a small yard, but now they can have a swing and a slide and more room to play."

Cotton Meadows Show Home
When it comes to shared ownership, first-time buyers Katie and Martin would definitely encourage others to consider it as a way of making that all-important step on the property ladder.
Katie says: "I'd definitely recommend shared ownership to others, especially people my age because it's hard to save up, have children and try and own your own house.
"We've rang up mortgage companies in the past and they want thousands of pounds just for the deposit, which, realistically, most families can't afford. But with shared ownership it makes it affordable. It's worked out at around just £30-a-month more than what we were paying to rent a two-bedroom house."
Martin adds: "With shared ownership the house is yours. You can put your own stamp on it. Eventually I'd like to put artificial turf in the garden so the kids and the dog aren't dragging mud through the house."
"It's surreal to think that we own our home," concludes Katie. "I thought we'd be looking at least another five or six years until we could even think about buying a home. It's nice to know that it's ours and it's all done."
If Katie and Martin's story has inspired you to find out more about shared ownership, contact the Onward Living sales team on 0151 708 2421 or email sales@onward.co.uk